Laurel Hard Drive Destruction
While it's obvious that your paper files contain sensitive information that you don't want stolen, it's fairly less well known that your electronic files do too. Hard drives and other electronic media sources are often overlooked as a means of leaked private information, but that just makes them all the more tantalizing to identity thieves.
To keep you, your family and your Laurel business safe, be sure to destroy your hard drives completely before they leave your possession. Because identity theft has become such a large problem in recent years, the destruction of your hard drives and other electronic media is actually required for compliance with Maryland and national privacy laws, including HIPAA.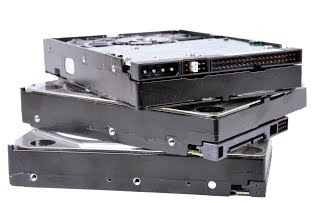 To be sure the information is destroyed, the only option is to physically destroy the hard drive. Deleting your files is not good enough—free software exists that allows the extraction of deleted files, so people can still access the information, even if you think it's gone.
Fortunately, Laurel Paper Shredding Service partners with local contractors who provide hard drive destruction services that can be completed right at your location or at a secure Laurel plant. They shred your hard drives to pieces, melt down the scraps, and recycle what is left. This is complete destruction.
And don't forget that hard drives are not only found in computers. Copy machines and fax machines have hard drives that must be shredded before they are sent off to the recyclers. These devices store digital images of what has been scanned, and those images can be recovered. Magnetic media of all kinds must be destroyed. This includes CDs, tapes, and hard drives.
Upon destruction, you will receive a certificate of destruction that indicates the process has been completed. This certificate is good to maintain records, especially if following a legal regulation such as HIPAA. The process is entirely secure and confidential, and after the certificate is delivered, you know for a fact that your electronic information is eternally safe.
Get Free Quotes on Hard Drive Destruction Services in Laurel, Baltimore and DC Today!
All too often hard drives are forgotten about and thrown away without proper precautions, leaving the information on them vulnerable. Laurel Paper Shredding Service contractors will destroy your electronic media so the information can never be recovered. Make sure your information doesn't make its way into the wrong hands. Call us today at (240) 560-5105 or fill out the form on the left for free quotes.